If you are looking for a meaningful career that makes a difference, the Idaho Department of Insurance (DOI) may be the right fit for you!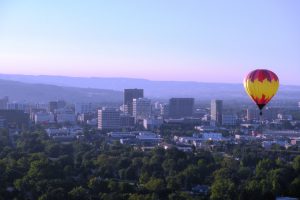 According to U.S. News & World Report, Idaho ranks as one of the best states for its economy, fiscal stability and business as measured by the low tax burden. Idaho continues to rank among the highest states in the Western U.S. for growth in personal income according to the U.S. Bureau of Economic Analysis.
At the Idaho Department of Insurance we offer a variety of positions, some areas include:
Administrative support
Financial Analysis
Information Technology
State Fire Marshal Office
Insurance Industry Specialties
Leadership
See below or explore our website for more information about the DOI. If you have any questions about working at the DOI, please contact DOI's HR Department.
Announcements, application information, including accommodations requests for the state, along with more information about benefits and compensation information, are available through the Idaho Division of Human Resources by phoning 1-800-554-5627 or by visiting their website.

The DOI's mission is simple. We aim to serve and protect Idahoans by equitably, effectively, and efficiently administering the Idaho Insurance Code and the International Fire Code. The DOI is looking for individuals who uphold these values. We embrace diversity and equal opportunity in a serious way. We are committed to building a team that represents a variety of backgrounds, perspectives and skills. And we strive to create an inclusive work culture that encourages, supports and celebrates the diverse voices of our employees. It fuels our innovation and connects us closer to our customers and the communities we serve.
The State of Idaho employs 25,000 state employees. As part of the state's thriving workforce, the DOI provides a positive, collaborative, and professional work culture with work-life balance. DOI team members are supported in career development and receive opportunities to enhance their skill sets. Whether you are new to public service or an experienced government employee, joining the DOI is an excellent career choice!
To learn more about the Idaho Department of Insurance please visit our About Us page. 
Work with DOI
As part of the DOI team you will receive a comprehensive benefits package and a nationally recognized retirement program through PERSI.
Benefits
Insurance
Paid Leave
Health Wellness Program
Retirement and Savings
Employment with the DOI may also qualify you for student loan forgiveness through the Public Service Loan Forgiveness Program (PSLF) offered by the US Labor Department.
Veterans
The Idaho Department of Insurance thanks veterans for their service.
We are committed to helping those who have served our country. Preference in the hiring process may be given to veterans according to state and federal laws and regulations. For more information, please visit the Idaho Division of Human Resources (DHR) website.
Location
Nestled in Southwestern Idaho, Boise's reputation is one of the most ideal cities to live, work, and raise a family. The DOI headquarters is located in the heart of downtown Boise adjacent to the Capitol. Our offices are a short walk to eateries, shopping, movie theaters and Boise's historic farmers markets.
Live and Play
Boise is also known for its easy access to hiking trails in the foothills, a 15-minute drive to the ski slopes, and adventures on the Boise River. Whether it's the vibrant cultural and recreational opportunities, the friendly people, or it's natural beauty from the stunning to the serene, Idaho affords a quality of life second to none!
Equal Employment Opportunity and E-Verify:
The DOI is an Equal Opportunity Employer. All employment decisions are made without regard to race, color, religion, national origin, sex, age, or disability. If you have questions, feel free to contact DOI HR.
A Great Team
All newly hired employees are subject to the E-Verify Employment Eligibility Verification program, which helps employers verify employment eligibility. This program was established by the U. S. Department of Homeland Security and the Social Security Administration according to Executive Order #2001-10. Participation in the E-Verify program doesn't exempt the agency from the obligation to complete a Form I-9 for everyone it hires.