When do I qualify for Medicare if I'm under 65-years-old?
Are you receiving Social Security Disability Insurance (SSDI) benefits?
If yes, you normally will be eligible for Medicare the first of the 25th month after you begin receiving disability benefits. You will automatically receive your Medicare card about 3 months before the month in which you are eligible for Medicare. You do not need to register for Medicare.
Exception: If you are diagnosed with Amyotrophic Lateral Sclerosis (ALS), also known as Lou Gehrig 's disease, you become eligible as soon as Social Security receives notice of your diagnosis.
Have you been diagnosed with End-Stage Renal Disease (ESRD)?
If yes, you are generally eligible for Medicare four months after you begin dialysis. In some cases you may be eligible sooner. Check with Social Security.
Normally you'll be enrolled into both Medicare Part A and Medicare Part B. Depending upon the amount of work credits you have, you may not have to pay premiums for Medicare Part A. You will be expected to pay premiums for Medicare Part B.
What are my Medicare Options?
Medicare Supplement: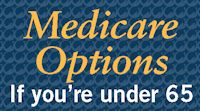 When Medicare standardized Medicare Supplement plans, it was left to the states to determine if that state was going to require the companies offering Medicare Supplement plans (also known as Medigap plans) to offer these plans to people under the age of 65. The Idaho Department of Insurance rule 18.04.10 states that Medicare Supplement insurance policies offered in the State of Idaho must be made available to people under the age of 65 during their Medicare Initial Enrollment Period, or during guaranteed issue periods that may apply. Companies will be permitted to charge up to 150% of the age 65 premiums.
Medicare Advantage: Medicare Advantage is an "all in one" way to receive your Medicare. These "bundled" plans include Part A, Part B, and usually Part D. Some Plans may have lower out-of-pocket costs than Original Medicare. Some plans offer extra benefits that Original Medicare doesn't cover – like vision, hearing, or dental. You must be enrolled in Medicare Parts A & B to be eligible to purchase a Medicare Advantage Plan. Plans may not be available in all counties.
Prescription Drug Coverage: All persons with Medicare Part A, Part B or both, are eligible for a prescription drug plan. You can only be enrolled in one drug plan at a time. If you have drug coverage through a retiree plan or some other option (excluding veteran's benefits) joining a Medicare drug plan may result in the loss of the other coverage. A beneficiary may enroll in a Part D Drug Plan, either as a stand-alone Prescription Drug Plan (PDP) or as part of a Medicare Advantage plan with Prescription Drug coverage (MAPD).
See our brochure for more information.