Idaho Arson Award Program
The purpose of the Idaho Arson Award Program is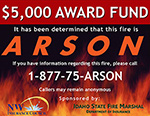 to reduce the crime of arson by eliciting public participation in solving arson crimes. The Idaho Arson Awards Committee reserves the right to make awards from program funds when it deems a nominee's actions might have met this purpose.
Criteria for making a nomination:
Information received must be for fires in the state of Idaho only.
Award will only be considered after the arrest and/or conviction.
Nominations must come from a member of a fire, law enforcement, legal agency, insurance industry or anyone deemed appropriate by the Arson Awards Committee of Idaho
Nominations are granted based on the amount of information that is given and the extent of assistance the information provides in solving an arson crime.