Medicare Supplement Insurance, often called Medigap Insurance, are insurance policies meant to add to Original Medicare coverage. Original Medicare was not designed to pay for all health care costs. There are many gaps in coverage that Medicare does not pay for, such as coinsurance and deductibles. You can choose to fill those gaps with Medicare Supplement/Medigap.
Medicare Supplement/Medigap policies come in eleven different standardized plans. Each is identified by a letter "A" through "N." Because they are standardized, the benefits provided in any plan with the same letter will be the same, no matter what company sells you the plan. However, the cost for that plan (premium price) will vary between companies.
As of January 1, 2020, Medigap plans sold to people who are new to Medicare aren't allowed to cover the Part B deductible. Because of this, Plans C and F aren't available to people who are newly eligible for Medicare on or after January 1, 2020. If you already had either of these 2 plans (or the high deductible version of Plan F) or are covered by one of these plans before January 1, 2020, you're able to keep your plan. If you were eligible for Medicare before January 1, 2020, but not yet enrolled, you may be able to buy one of these plans. A new Plan G high-deductible plan is available.
What do Medigap Plans cover?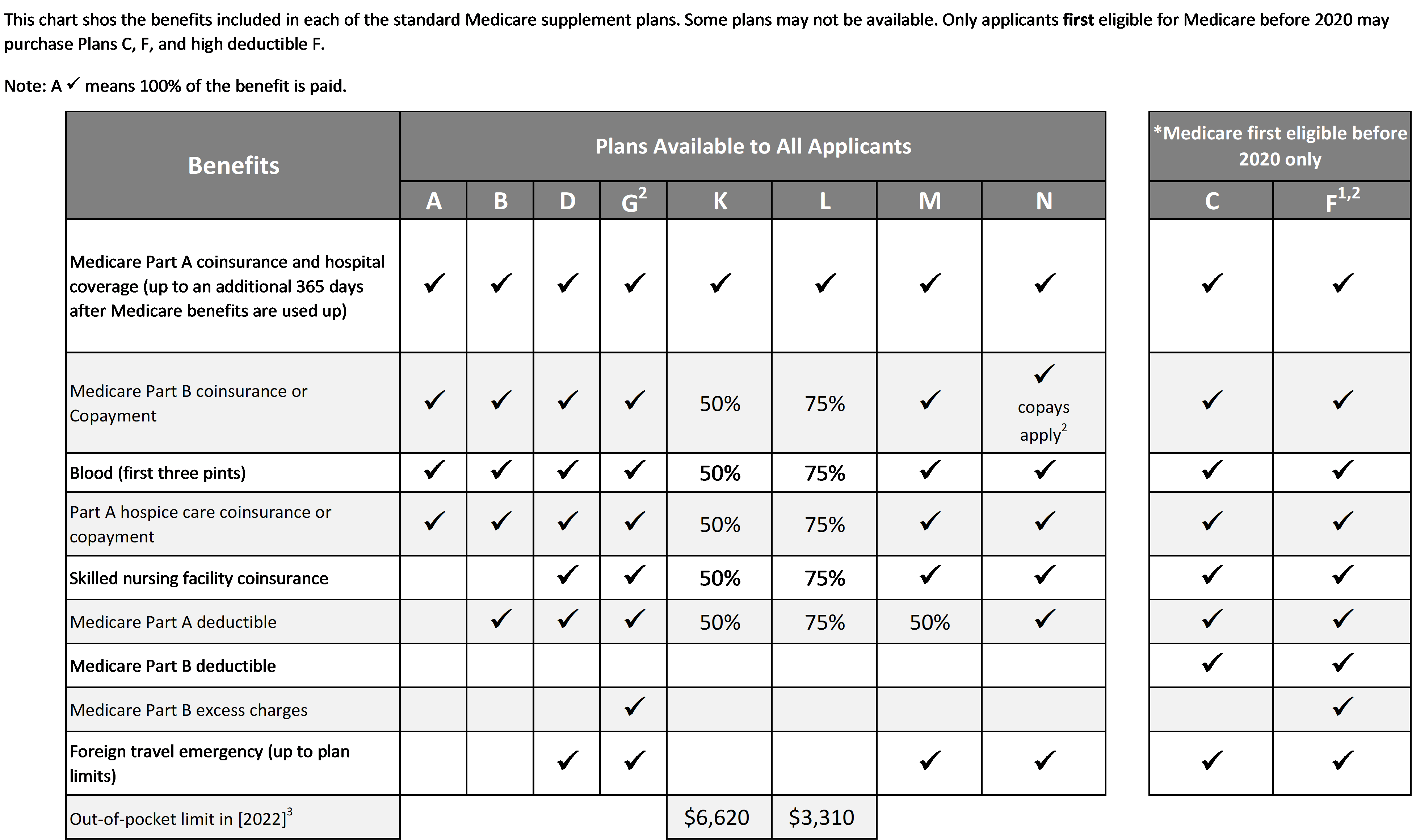 Plans C and F are no longer available to people who are newly eligible for Medicare on or after January 1, 2020.
Plans F and G also offer high deductible plans. With this option, you must pay for Medicare-covered costs (coinsurance, copayments, and deductibles) up to the deductible amount of $2,490 in 2022 before your policy pays anything. Once the plan deductible is met, the plan pays 100% of covered services for the rest of the calendar year. High deductible plan G does not cover the Medicare Part B deductible. However, high deductible plans F and G count your payment of the Medicare Part B deductible toward meeting the plan deductible.
***Plans K and L pay 100% of covered services for the rest of the calendar year once you meet the out-of-pocket yearly limit and your yearly Part B deductible ($233 in 2022).
Plan N pays 100% of the Part B coinsurance, except for a co-payment of up to $20 for some office visits and up to a $50 co-payment for emergency room visits that do not result in an inpatient admission.
Find and compare Medigap standard rates
About these charts
Plans and premium rates listed in the charts were filed by the company and accepted by the Idaho Department of Insurance (DOI). The DOI cannot certify the accuracy of the information and recommends consumers contact the company for the exact rates and plans offered in their area. Due to frequent changes always check with the company for the latest availability and premiums. The appearance of a company on the list does not constitute an endorsement of a company or its policies by the DOI, SHIBA, or its volunteers. Please check company websites for contact information. There may be variance in rates based on purchase date. Membership in associated organizations may be required to be eligible to purchase some plans. Application fees may apply. Please contact companies for plan details.
Some plans are offered with innovative benefits. These plans are marked with an * in the rate charts and a separate chart listing the specific innovative benefits offered is also available. Companies may impose a Pre-Existing Condition Look-Back Period. These companies are indicated with an ** on the rate charts. See the list of rate charts below:
Community Rates
Historical Medigap Rates